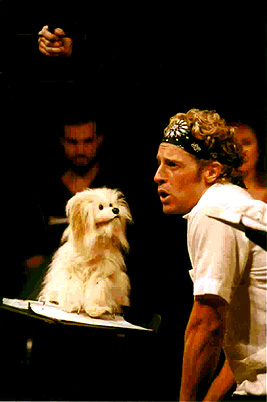 Photo and caption

courtesy of The O'Neill theater center
(l to r) Marc Kudisch, Taffy and Tom Plotkin, "The Road to Hollywood" by Michael Pace, Walter Bobbie and Rob Preston at the O'Neill Music Theater Conference. Photo by A. Vincent Scarano.
"Road to Hollywood"
A New (York) Hollywood Tail
While attending a June wedding and performing with Broadway veteran Marcia Lewis was to be the highlights of a weekend in New York. "Chicago " (the musical, not the city) director Walter Bobbie was an unexpected surprise. Mr. Bobbie was smitten with Taffy's performance which ignited a spark in his creative juices. He was in the throws of creating a new musical "Road To Hollywood", based on the Bob Hope and Bing Crosby road pictures and he got an idea. Approaching Phillip after his performance, Mr. Bobbie proceeded to tell him of a part in his new show for a real dog, and wouldn't it be nice if it were Taffy. Such a compliment, that Taffy can convince people she is real! How could she refuse the role? Since then, the show has been mounted in a concert production at the O'Neill Center in Connecticut (see photo, left) and has consequently been picked up for the Goodspeed Opera House Summer Season 2002.
Pictured top left, blending into the background (dressed in black) is Phillip standing between Taffy and Tom Plotkin. (Note the disembodied hand.) Many forget that Taffy needs her trainer even if he disappears in plain sight.

Click this poster to see photo's of the production at the Goodspeed Opera House.