Next focus was the articulated body. Since the range & style of the marionette's movement were so crucial to this commercial, special care was taken in the design & fabrication of each joint. Specific movements had been outlined by the director & each of these needed to be "built in". The body went from drafted sketch to blocks of wood to a delicately carved & jointed figure.
Then a costume design and fabrics were chosen. The production designer suggested muted earth tones for the set and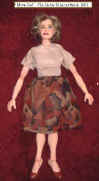 requested the marionette's costume follow the same palette. Phillip dashed off some quick costume sketches for the clients' approval. Ardi Lawrence, the costumer, was able to begin work as soon as the marionette body was complete. The costume fabrics were so soft & sheer that undergarments were also constructed.